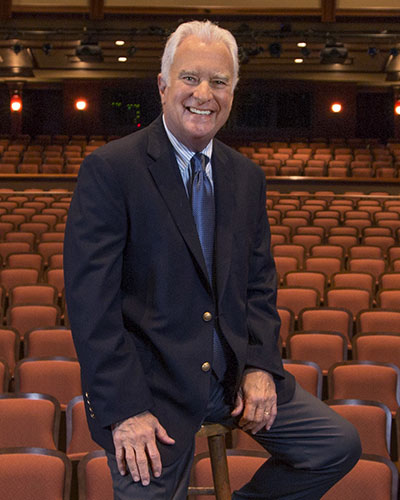 Michael Blachly, Director of Opening Nights
Artists representing 11 different countries comprise the offerings for the upcoming season. In this way, Opening Nights is Bringing the World to You! Our hope is to continue exploring different cultures as we build an international profile to share with the community-at-large in the years to come.
The performing arts help connect people. With that, we're expanding beyond the Florida State University campus to facilitate programs in diverse venues. Additionally, we are expanding our educational and community outreach with school performances, master classes and related activities by many of our international artists. The support of our members and sponsors make the outreach programs possible.
It's our hope that you'll find something that piques your interests this season.
---
See the World
---
Name
Date
Genre
Anthony Trionfo, flute
Thursday, November 15, 2018; 7:30 PM
classical
Mandy Harvey
Thursday, December 6, 2018; 7:30 PM
singer-songwriter
Soweto Gospel Choir
Songs of the Free
Tuesday, December 11, 2018; 7:30 PM
gospel
The Barefoot Movement
Holiday Performance
Wednesday, December 12, 2018; 7:00 PM CST Thursday, December 13, 2018; 7:30 PM
bluegrass, holiday


Skerryvore
Wednesday, January 9, 2019; 7:30 PM
folk, pop, rock, traditional
Parsons Dance Company
Saturday, January 12, 2019; 2:00 PM (Sensory Friendly)
Saturday, January 12, 2019; 7:30 PM
dance
Béla Fleck & Abigail Washburn
Echo in the Valley
Monday, January 14, 2019; 7:30 PM
Americana, bluegrass, folk
Joshua Bell
Sam Haywood, piano
Monday, January 28, 2019; 7:30 PM
classical
The Temptations and the Four Tops
Tuesday, January 29, 2019; 7:30 PM
Motown, R&B
Cashore Marionettes
Friday, February 1, 2019; 7:30 PM; Life in Motion
Saturday, February 2, 2019; 2:00 PM; Simple Gifts, (family friendly)
puppetry


PRISM
A Collaboration with the Florida State University College of Music
Sunday, February 3, 2019; 2:00 PM
classical, jazz, marching band, pop
Farruquito
Saturday, February 9, 2019; 7:30 PM
dance, flamenco
The Boston Pops on Tour
Lights, Camera... Music! Six Decades of John Williams
Thursday, February 14, 2019; 7:30 PM
orchestral pop
Tom Rush
Sunday, February 17, 2019, 2:00 PM
folk
The Julian Bliss Septet
A Tribute to Benny Goodman
Thursday, February 21, 2019; 7:30 PM
jazz
Makana
Monday, March 4, 2019; 7:30 PM
Tuesday, March 5, 2019; 7:30 PM
hawaiiana, singer-songwriter, traditional
Taylor Tomlinson
Friday, March 8, 2019; 7:30 PM
comedy
The Michael Feinstein Trio
Shaken & Stirred – Classic Songs Reimagined
Tuesday, March 12, 2019; 7:30 PM
cabaret, jazz
Lulo Reinhardt & Daniel Stelter
Thursday, March 14, 2019; 7:30 PM
gypsy swing, jazz
Jimmy Webb
The Glen Campbell Years
Tuesday, March 26, 2019; 7:30 PM
country, pop
Nate Bargatze
Friday, March 29, 2019; 7:30 PM
comedy


Matt Haimovitz
The Bach Suites: A Moveable Feast
Sunday, March 31, 2019; 2:00 PM
classical
Molly Tuttle
Thursday, April 4, 2019; 7:30 PM
bluegrass
Gina Chavez
Thursday, April 11, 2019; 7:30 PM
latin pop, pop, singer-songwriter
yMusic
Tuesday, April 16, 2019; 7:30 PM
classical, pop
DakhaBrakha
Wednesday, April 17, 2019; 7:30 PM
world music
The Second City
It's Not You, It's Me
Thursday, April 18, 2019; 7:30 PM
comedy, improv
Chain of Parks Art Festival Opening Event
Thursday, April 25, 2019
spoken word, visual arts
David Sedaris
Friday, April 26, 2019; 7:30 PM
author, humorist, spoken word
Rosanne Cash
She Remembers Everything
Saturday, April 27, 2019; 7:30 PM
Americana