Opperman Music Hall is a 437-seat concert hall located in Florida State University's Kuersteiner building. It is named for Ella Scoble Opperman who served as the first dean of music from 1911 to 1944. The hall can accommodate concerts ranging from solo recitals to chamber orchestra, band concerts and opera.
Air Purifiers
Florida State University has installed two air purifiers in Opperman Music Hall. The purifiers are "Surgically Clean Air", JADE (SCA5000C). More information is available at:  https://surgicallycleanair.com/jade/.
Parking Information
General Parking is available in the Call Street Garage, located on the corner of Call and Macomb Streets.
Accessible Parking and the accessible drop-off area is located behind Opperman Music Hall, which is access from Convocation Way.
To ensure greater availability of closer parking for individuals with accessibility needs, patrons with Department of Highway Safety and Motor Vehicles-issued Accessible Parking Placards/Tags will be granted access to park in Concierge and Preferred Parking lots. Please show your accessible parking placard to the parking attendant to gain access.
Map of Opening Nights Sponsor and Member Concierge and Preferred Parking Areas and Accessible and General Parking Lots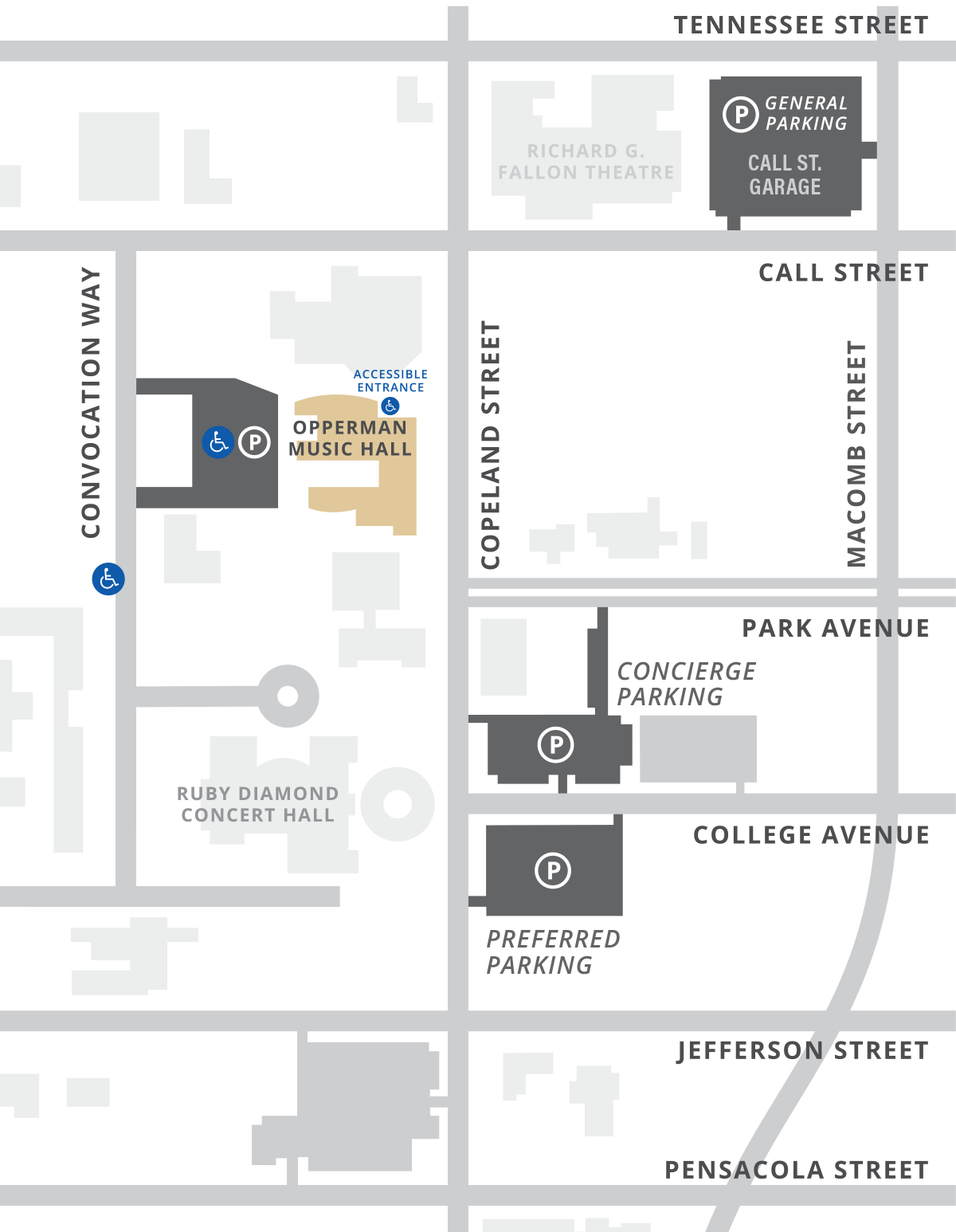 Location
Florida State University
Kuersteiner Music Building
114 N. Copeland Street
Tallahassee, FL 32306
Directions >
Virtual Tour
Beverages
Beverages are available for purchase in the lobby pre-show and during intermission (as applicable). Please check the pre-show email for specifics.
Water fountains are located on the first floor next to the restrooms and to the left of the second-floor entrance.
At Opperman Music Hall, beverages may not be taken into the performance.
Sponsors and Members may redeem their complimentary drink tickets for beer, wine and soft drinks. Spirits are available for purchase.