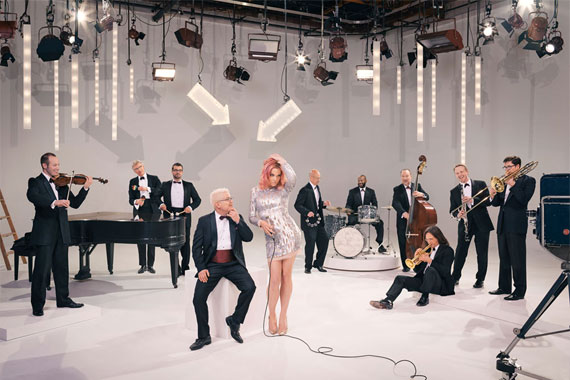 Pink Martini lead singer China Forbes has just been diagnosed, by Dr. Brett Andres, an orthopedic and Fracture Specialist in Portland, Oregon, with a tear of the rotator cuff that requires urgent surgical treatment. A full recovery is expected, but the delicacy of recovery process will prohibit Ms. Forbes from traveling for solo concerts or with Pink Martini until February 2018 at the very earliest.
We're happy to announce that Pink Martini's co-lead singer, Storm Large, will be able to step in to lead five scheduled Pink Martini performances: January 20, 2018 in Gainesville, Florida; January 22, 2018 in Tallahassee, Florida; January 23, 2018 in St. Petersburg, Florida; January 24, 2018 in Ft. Lauderdale, Florida; and January 25, 2018 in Charleston, South Carolina. Ms. Large has toured extensively as a lead singer with Pink
Martini since her debut with the band in April 2011 at the Kennedy Center, with the National Symphony Orchestra, has won rave reviews from fans and critics, and has been featured on Pink Martini's past three studio albums.
China Forbes scheduled solo performances in Bend, Oregon at the Jazz at the Oxford series, scheduled for January 12 & 13, 2018, have been rescheduled for April 6 & 7, 2018. Tickets for the original performances will be honored at the new dates. Please contact Ticket Tomato at 503.432.9477 for more details.
Decisions are still being made about scheduled Pink Martini performances in San Antonio on January 17, 2018, and in Melbourne, Florida, on January 19, 2018. More details will be announced soon.
The heartfelt wishes and support of the entire Pink Martini family are with China Forbes as she undergoes her surgery and recovery, and we look forward to welcoming her back to the stage in February.
---
For more information, please contact William Tennant or Claire Dennerlein at Pink Martini headquarters, 503.249.0808, bill@pinkmartini.com or claire@pinkmartini.com.