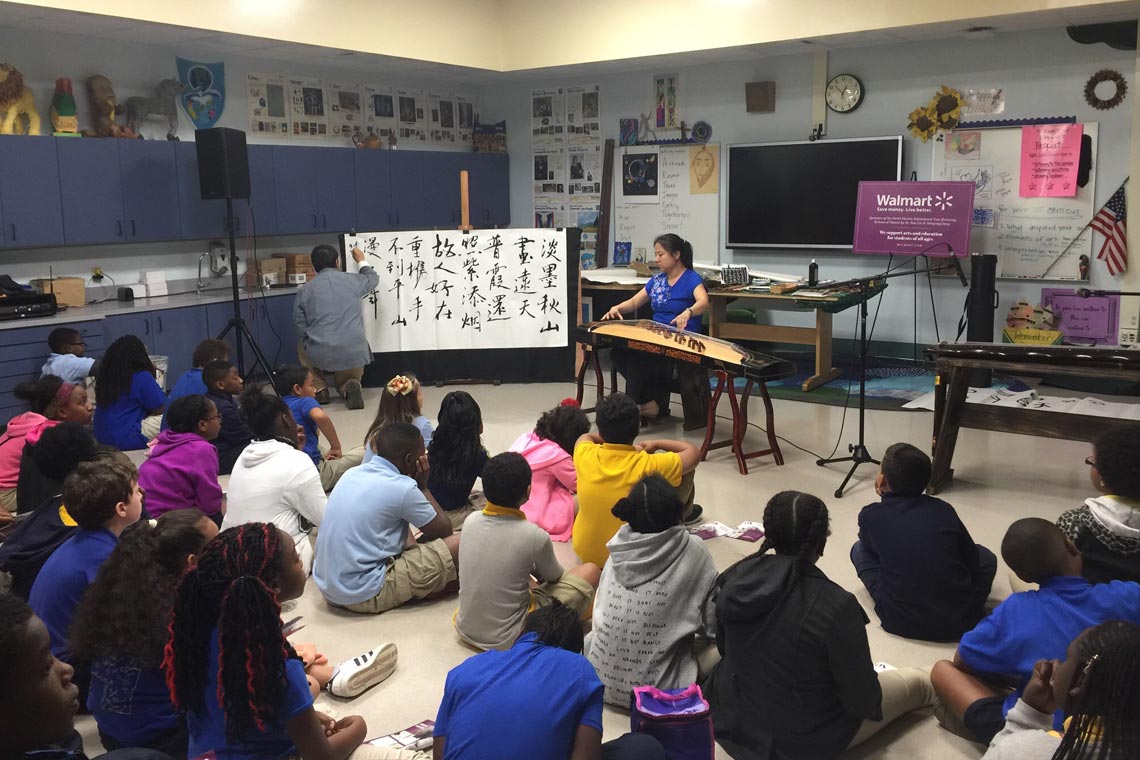 TALLAHASSEE, Fla. — Opening Nights at Florida State University and Walmart partnered to enhance arts programming for Leon and Jefferson county students through the North Florida School Tour. The "Echoes of Nature" program, sponsored by Walmart, introduced more than 1,500 students to traditional Chinese art and music.
"Walmart continues to proudly sponsor Opening Nights North Florida School Tour because we believe in the value of arts in education," said Monesia T. Brown, Director of Public Affairs & Government Relations for Walmart. "The program provides all students with knowledge about the performing arts while enriching their individual cultural experiences in remarkable ways."
Instructors Nan Liu, Ph.D., an associate art professor at Florida A & M University, and Haiquiong Deng, award-winning zheng master and director of the Chinese Music Ensemble at FSU, travel across North America and other countries teaching students of all ages to help foster an appreciation of other cultures. Their educational program, "Echoes of Nature" includes traditional Chinese music, playing the Guqin and Guzheng instruments, and a visual arts demonstration of Chinese painting and calligraphy.
The North Florida School Tour included Augusta Raa Middle School, Apalachee Tapestry Magnet School of the Arts, Deerlake Middle School, Maclay School and Jefferson County Elementary School.
"The commitment that Opening Nights shows to arts education in Leon County Schools each season is tremendous," says Sam Thompson, Dean of Students for Augusta Raa Middle School.
"Through the North Florida School Tour, our arts magnet students are exposed to diverse artists, informed of potential arts careers, and encouraged to explore different forms of art. We are privileged to participate in this program and look forward to continuing our relationship in the future."
"Key to our arts educational programs is for students to discuss and practice what they learn," said Calla MacNamara, Education and Engagement Manager for Opening Nights. "Through Walmart's sponsorship, each student received an educational program created and designed by the Florida Center for Reading Research featuring vocabulary words, visual examples and activities to further enhance their learning."
Opening Nights seeks educational offerings that inspire students and educators for learning through the performing arts. Since September, Opening Nights has provided free arts educational programming for more than 3,000 students in kindergarten through grade 12.