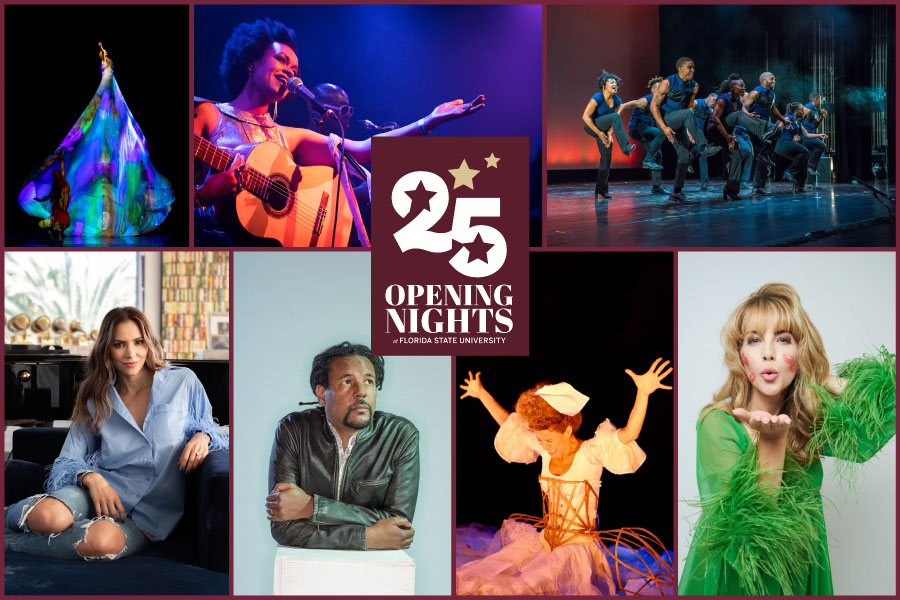 TALLAHASSEE, Fla. — Throughout the month of February, Opening Nights at Florida State University will present numerous performances and cultural and educational events that represent theatre, the written word, music and dance, several of which honor and celebrate black history month.
"Multicultural representation is essential to our mission, and it gives us great joy to celebrate Black History Month by presenting African American artists from different parts of the world," said Jennifer Wright, director of Opening Nights. "These artists represent the very best in the performing and literary arts."
Step Afrika!, the first professional dance company dedicated to the tradition of stepping, will perform at 7:30 p.m. Sunday, Feb. 7 at Ruby Diamond Concert Hall. Founded by C. Brian Williams, Step Afrika! rose from the historically acknowledged dance styles of African American fraternities and sororities. This company has been featured on NBC and CBS and has performed globally as an official U.S. Cultural Ambassador.
The FSU National Pan-Hellenic Council will perform a unity step and stroll before Step Afrika! at 6:40 p.m. on Westcott Plaza.
On Wednesday, Feb. 8, Nims Middle School, a local Title I school, will come to FSU's campus for an Arts Day. The 600 middle school students will enjoy a special performance of Step Afrika! followed by a Q&A with the dancers and a presentation from FSU's Center for Academic Retention and Enhancement (CARE). Nims students will wear Arts Day t-shirts designed by a Nims Middle School student. The arts day t-shirts were made possible through VyStar Credit Union's sponsorship.
Nim's principal, Benny Bolden, was selected as the 2022 Opening Nights Arts Advocate of the Year award recipient. As part of this honor, his school receives the exclusive Step Afrika! performance. Additionally, FSU's Schools of Dance and Theatre instructors have provided educational programs at Nims Middle School leading up to the student's FSU Arts Day.
"My objective for the day is to show my students the arts opportunities available at the college level and how a college degree can help open doors for future economic opportunities," Bolden said. "I want to show how the arts programs and opportunities we are providing at Nims Middle School can continue through college either in earning a degree or in participating in various college student clubs and activities for enjoyment and developing social skills."
Colson Whitehead, Pulitzer Prize-winning and No. 1 New York Times bestselling author, will lead a discussion about his writing process and works, including "The Underground Railroad" and "The Nickel Boys" at 7:30 p.m. Thursday, Feb. 9. Whitehead writes about social, political and historical themes revolving around race and relates his fictional works to reality.
Whitehead will host a masterclass on the morning of Monday, Feb. 9 for FSU's creative writing students.
Opening Nights and the Tallahassee Symphony Orchestra are partnering to present Queens of Soul at 7:30 p.m. Saturday, Feb 11, at Ruby Diamond Concert Hall. Vocalists Morgan James and Erica Gabriel will sing Motown, R&B and soul music favorites, all backed by the Tallahassee Symphony Orchestra under the direction of Darko Butorac. James has established herself as a formidable presence in the music world, performing in the original companies of five Broadway productions and performing with Post Modern Jukebox, a rotating musical collective. Gabriel has performed with the Chicago Symphony Orchestra, Savannah Philharmonic and the Jackson Symphony.
Celebrate Valentine's Day by attending Momix's dance production of Alice at 7:30 p.m. Tuesday, Feb. 14 at Ruby Diamond Concert Hall. Inspired by "Alice in Wonderland," Moses Pendleton's "Alice" story is full of imagery and absurd logic. Momix will take audiences on a magical, mysterious, fun and eccentric journey.
"I want to take this show into places we haven't been before in terms of the fusion of dancing, lighting, music, costumes and projected imagery," Pendleton said.
Furthering its commitment to provide arts experiences to all students, Opening Nights is hosting more than 1,000 Title I school students for a matinee performance of "Alice" on Valentine's Day.
"Attending performances engage a student's imagination like no other school experience can offer," said Marcus Nicolas, Leon County Schools board member. "Exposing them to the arts allows them to see, hear and think beyond their current circumstances."
The final February performance will feature Meklit, an Ethio-American vocalist, songwriter, composer and cultural activist. Meklit will take the stage at 7:30 p.m. Tuesday, Feb. 28 in the Opperman Music Hall.
Meklit's music is steeped in traditional Ethiopian rhythms blended with her poetic core. As a TED Senior Fellow, she has collaborated with Kronos Quartet, Andrew Bird, Preservation Hall Jazz Band and musical legend Pee Wee Ellis.
Meklit will be hosting a Black History Month lecture and performance at the FSU Center for Global Engagement.
February's events kick off with "The Other Mozart" at 7:30 p.m. Saturday, Feb. 4  at Tallahassee Community College's (TCC) Turner Auditorium. This award-winning solo play tells the forgotten story of Nannerl Mozart, the sister of Amadeus, a prodigy, keyboard virtuoso and composer who performed with her brother to equal acclaim, but her work and story faded away.
Katharine McPhee will perform an evening of Broadway hits on Monday, Feb. 6, at FSU's President's House. This special performance will celebrate Opening Nights' 25th Anniversary.