From the Director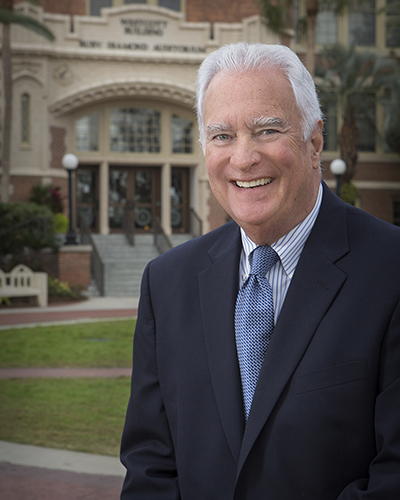 The performing arts bring a community together for a shared experience. The arts can also do so much more. They can provide an escape, entertainment, inspiration, education, and a way to help heal a community.
Given the devastating impacts of Hurricane Michael on the Big Bend, "Opening Nights in Class" is playing an even more critical role for students in our area.
Through Opening Nights in Class, one-third of our artists this season are providing educational programming for public, private and home-schooled students in Leon, Jefferson, Wakulla, Gadsden and Bay counties.
While Hurricane Michael disrupted the program with Graeme James at Lincoln High School, two very successful educational programs were held this week at FSU's Center for Global Engagement and Raa Middle School.
Through November and December, we have numerous Opening Nights In Class programs planned for various K-12 Schools in the surrounding area and for college students. Of particular note is the program for 300 Bay County students at FSU Panama City.
With support from The St. Joe Community Foundation, Opening Nights in Class will provide the students lunch and an educational program and concert with Nashville-based bluegrass band, The Barefoot Movement, on December 12 at FSU Panama City.
As an added bonus that evening, The Barefoot Movement will provide a free Holiday concert for the Bay county community at 7 pm CST in the Holley Academic Center at FSU Panama City, courtesy of The St. Joe Community Foundation. For tickets, please contact rkelly@pc.fsu.edu.
If you are interested in more information about Opening Nights in Class initiatives or becoming a sponsor to provide more educational opportunities, please contact caroline.poole@fsu.edu.
---
FAQs

May I take photos with my cell phone during a performance?
Taking photos at a performance varies depending on the performer's wishes and the venue. If venue signage or an announcement prohibits photography, audience members are expected to comply with the request. Flash photography is never acceptable because it ruins the experience of patrons around you.
Many artists are embracing photos and videos with a cell phone during a performance because of the added exposure through social media. Recently, at the 1964 The Tribute performance, the band asked the audience to take out their cell phone and share the experience with someone who couldn't be there.
As an audience member, if you choose to take a photo or video during a performance, please be respectful of those around you and turn off the flash and reduce your screen brightness. Opening Night staff and volunteers are happy to assist you with either of these before a show begins.
Please be polite and respect every patron's right to enjoy the show.
---
ONoteworthy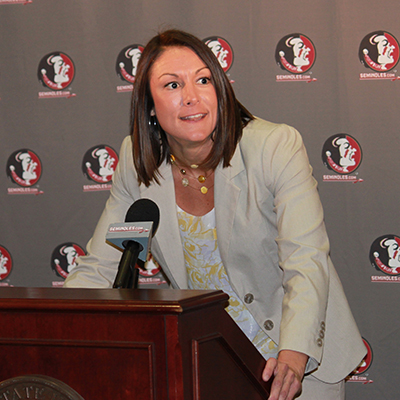 This year marks the 50th anniversary of women's intercollegiate athletics at Florida State University. To celebrate this milestone, Opening Nights chatted with Vanessa Fuchs, FSU's senior associate athletic director and a big Opening Nights fan, about the history of women's athletics at FSU.
"I have researched this and have not found many Division I institutions that have hosted a 50th anniversary celebration and certainly not to the extent that FSU is celebrating, so as an alum and now a staff member, I am very proud that FSU is leading the way," said Vanessa Fuchs. "It shows just how committed our university is to our treasured history and sustaining the success we've enjoyed with our nationally competitive women's sports programs."
FSU has been a national leader in promoting and supporting women's athletics since 1968 when volleyball became its first-ever women's intercollegiate sport.
The 11 Women's Sports and Year Each was Sponsored
Sport
Year(s)
Indoor Volleyball
1968
W. Basketball
1972-73 season
W. Track and Field
1969

(indoor and outdoor track are two sports)

W. Cross Country
1974
Soccer
1995
Softball
1973 (slow pitch)/1984 (Fast-pitch)
W. Swim and Dive
1976
W. Golf
1970
W. Tennis
1973
Beach Volleyball
2012
Florida State has won seven national championships throughout the last 50 years, including:
Softball 2018 and earned back-to-back AIAW (Association for Intercollegiate Athletics for Women the precursor to the NCAA) national titles in 1981 and 82
Soccer 2014
Track & Field 1984 outdoor and 1985 indoor
Golf 1981 (AIAW national title)
Vanessa Fuchs played Women's Basketball at FSU during 1998 to 2001 and returned to work in the athletics department in July 2010. "I love working with our student-athletes on a daily basis!" said Fuchs. "I had an exceptional experience as a Florida State Seminole and I am fortunate to have the opportunity to "pay it forward" to our current student-athletes and ensure they too have a first-class collegiate experience."
For more information on the year-long celebration visit: http://seminoles.com/50th/ or https://www.facebook.com/GarnetandGolden/.
---
Opening Nights in Class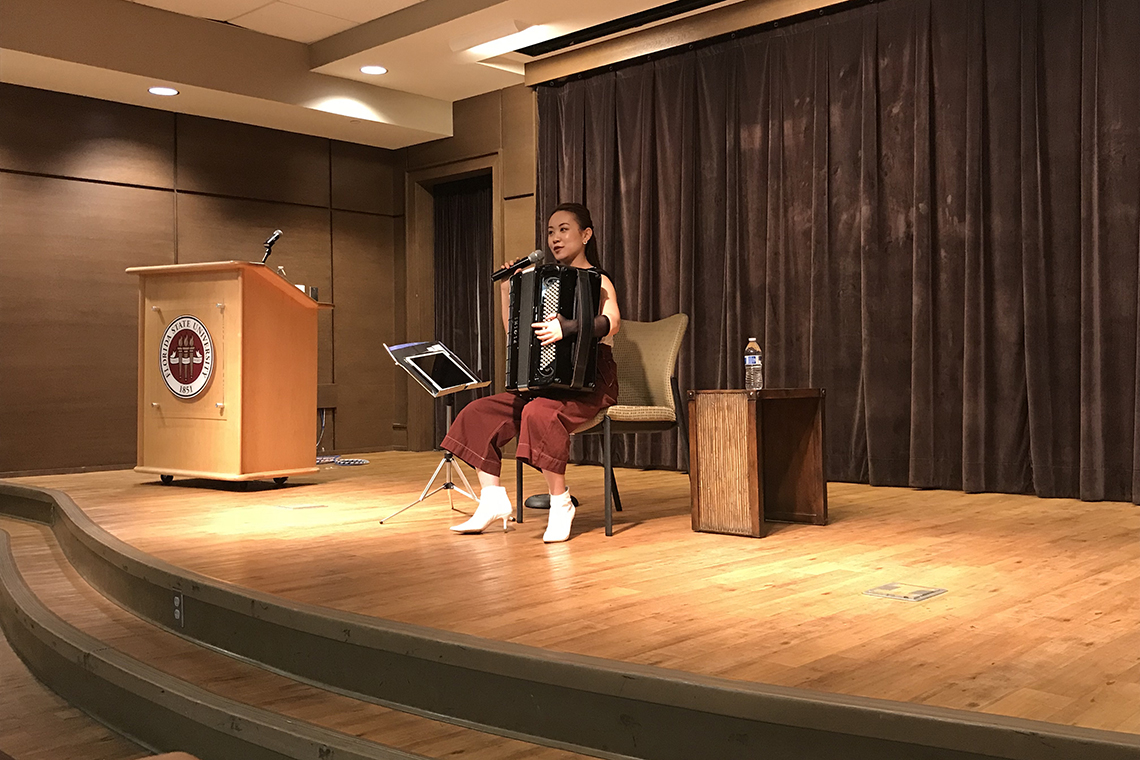 Opening Nights partnered with the FSU Center for Global Engagement to host Hanzhi Wang as part of the center's Engage Your World Series: Intercultural Dialogue Series on Tuesday, Oct. 16. Students and music lovers alike watched and listened with amazement as this exceptional accordionist from China demonstrated her ability to play musical works from around the world with both finesse and power. A highlight of the hour-long performance was Hanzhi's personal stories about her career, explaining the difference between classical and traditional accordion music, demonstrating the different ways to make sounds with this unique instrument and answering audience questions.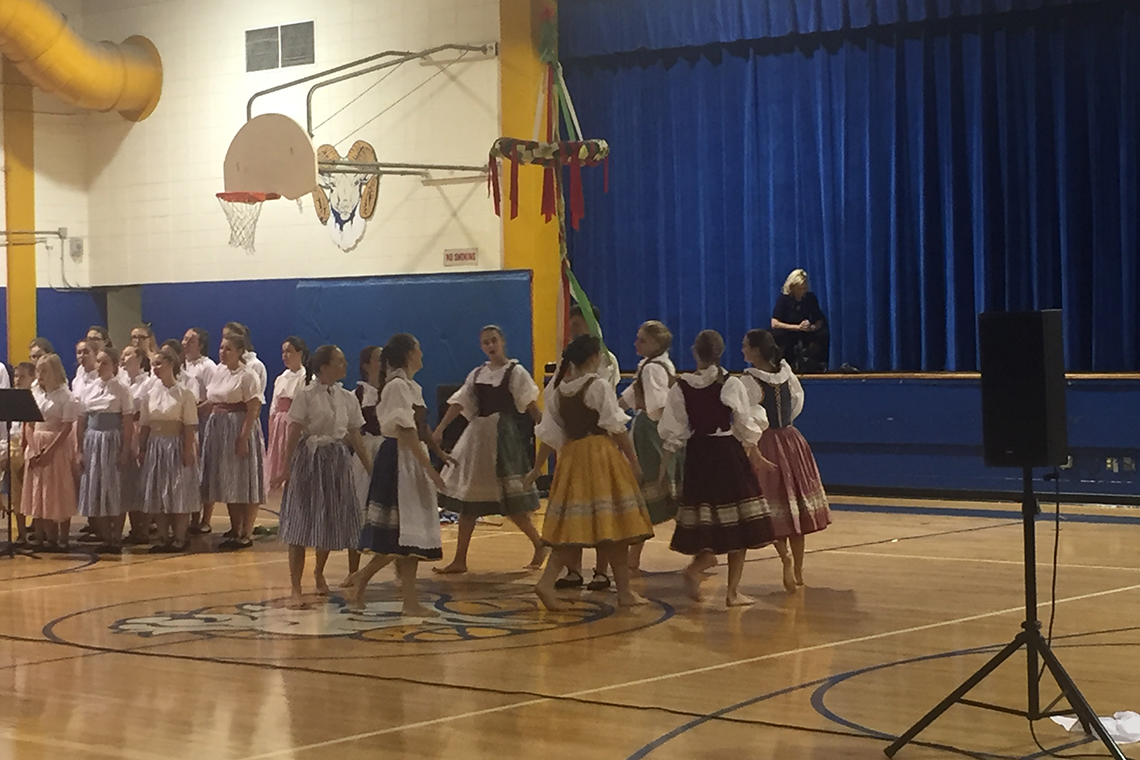 The Prague Philharmonic Children's Choir performed at Raa Middle School to more than 200 students as well as home-schooled students from Leon County. In addition to singing, the choir performed a traditional, cultural dance that represented the passage from winter to spring season.
---
Sponsor Update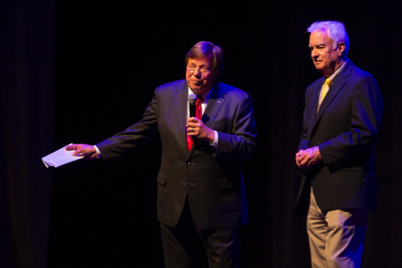 Opening Nights Sponsor and Development Council Member Ron Sachs, Sachs Media Group, introduces his favorite comedian, Brian Regan, with ON Director Michael Blachly at Ruby Diamond Concert Hall. Sponsors help support the variety and quality of artists Opening Nights is able to bring to the Tallahassee community.
---

The HillBenders, Oct. 30, Opperman Music Hall
Lindsay Lou, Nov. 12 & 13, Goodwood Museum & Gardens
The Barefoot Movement, Dec. 12, FSU Panama City
The Barefoot Movement, Dec. 13, Opperman Music Hall
Béla Fleck & Abigail Washburn, Jan. 14, Ruby Diamond Concert Hall
Molly Tuttle, April 4, Fallon Theatre