From the Director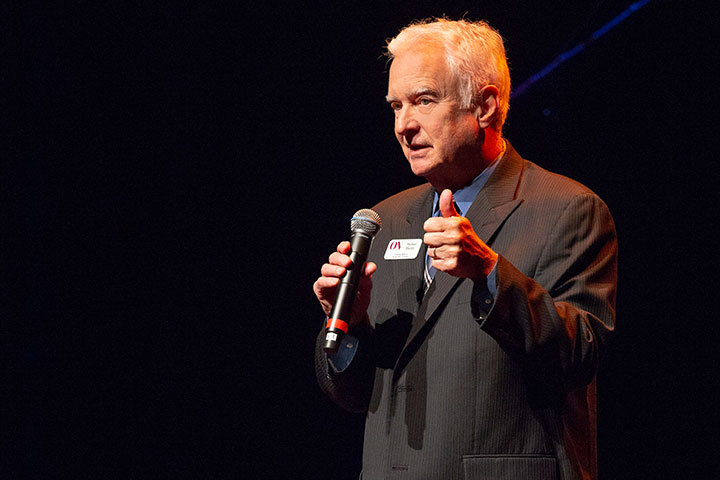 Please accept my warm thanks for a most successful 2018-19 Opening Nights Season. Your participation in our program through attendance and input on possible future artists enhances what we're able to offer the community.
We greatly appreciate your willingness to take some chances with us on bringing new artists to the Tallahassee community such as Ukrainian performers DakhaBrakha, comedian Taylor Tomlinson, gypsy swing guitarists Lulo Reinhardt & Daniel Stelter, Parsons Dance Company with their "sensory-friendly" matinee and Scotland's far-reaching rock and rollers Skerryvore. We have received numerous accolades for these and other artists this season and are grateful when you provide feedback.
On May 29 we'll be announcing the 2019-20 Season. It is my hope that you'll find more exciting performances that pique your interests!
Thank you for your ongoing confidence.  And, please keep your comments on our programs and performances coming!
Warmly,
Michael
---
Artist in the Spotlight: Joe Hutto—The Nature of Art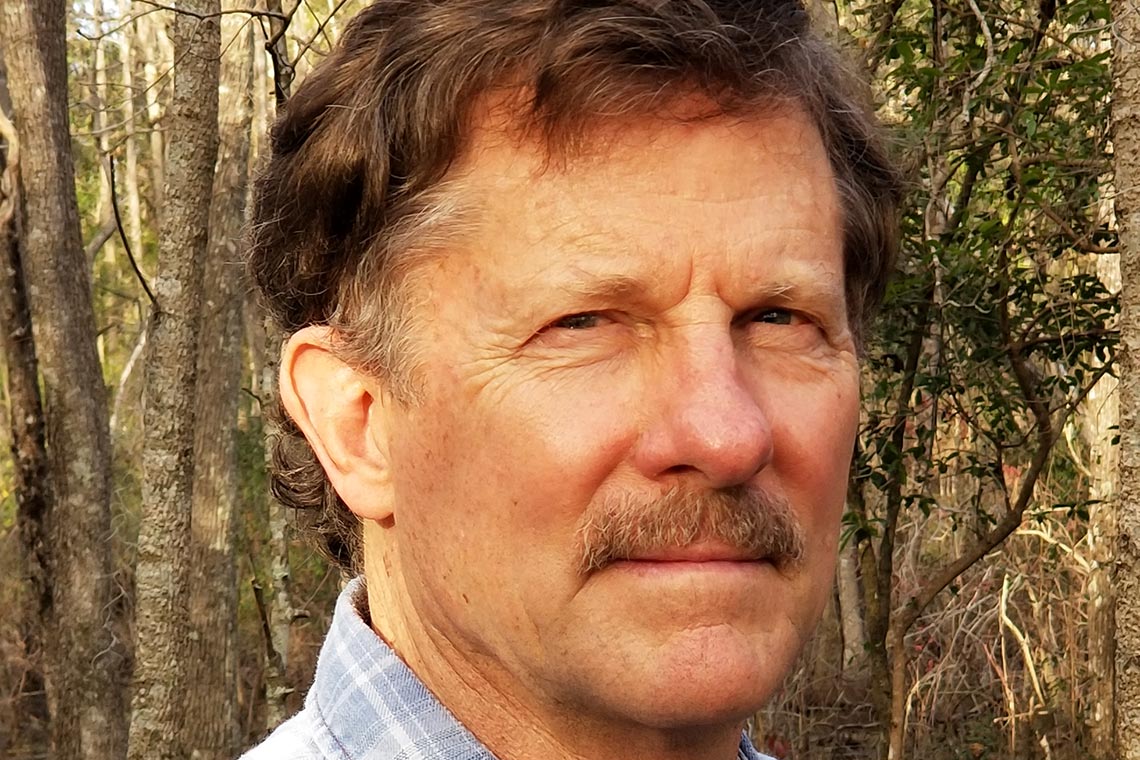 Join us tonight as we kick off the 2019 Chain of Parks Arts Festival with Joe Hutto's presentation on The Nature of Art. Hutto is a nationally recognized artist in photography, painting and bronze sculpture as well as an Emmy award-winning filmmaker and author of several internationally recognized books. His writing, scientific research, photography and artwork have been featured in numerous regional and national publications, including the Smithsonian and The New Yorker.
Joe will talk on the motivating force that seems to perpetually define the most significant expressions of our humanity, sharing his perspectives regarding the biological foundation of the aesthetic experience and the development of a mysterious driving force that appears to be peculiar to our species. The Natural History of art is an organic reflection of the most remarkable and perhaps the most significant aspect of our Human Nature. The lecture will be followed by a Q&A session moderated by Mark Hinson.
Purchase a ticket that includes the pre-show reception with Joe Hutto at 5 pm. Hutto's presentation begins at 6 pm. Q&A will begin about 6:45 pm.
---
Opening Nights in Class
By: Dr. Evan Jones, Professor and Coordinator of Music Theory and Composition and Dr. Grady Enlow, Interim Associate Dean for Community Engagement & Entrepreneurship
Florida State University College of Music
On Monday, April 15, six outstanding instrumentalists collectively known as yMusic performed the world premieres of six compositions by FSU graduate students. The concert was the result of a six-month collaboration involving three separate visits to FSU by yMusic, who have recently toured with Paul Simon and appeared with him on Saturday Night Live.
The ensemble visited FSU for the first time in early October, performing an informal concert of their own repertoire and working with each of the six students individually. Students submitted their complete first drafts by mid-February and met with yMusic again for two days in early March for an intensive schedule of rehearsals on each piece.
A full house of students and faculty attended the April 15 concert in Dohnányi Recital Hall. The performers took turns introducing each of the compositions from the stage and attested to having greatly enjoyed the months-long process that led to the unusual "all premieres" program.
The six student composers expressed tremendous gratitude for the unique opportunity of collaborating with such talented and inspiring performers. In one student's words, working with yMusic was "both an education and a joy to all involved–they have a great respect for the music they play, and are absolutely dedicated to giving the best performance at every turn."
---
That's a wrap!
Opening Nights in Class had an extremely successful year–we were able to collaborate with Leon, Wakulla, Gadsden, Jefferson and Bay county schools, as well as dozens of campus and community partners for a total of 4,925 students impacted this year! These were the latest Opening Nights in Class programs:
Matt Haimovitz
Cellist Matt Haimovitz hosted a master class with FSU College of Music cello students. Following the class, students watched Haimovitz perform one of his acclaimed "pop-up" concerts at the William Johnston Building. The world-renowned cellist also performed two other pop-up shows during his trip to Tallahassee at the Florida Historic Capitol Museum and Happy Motoring.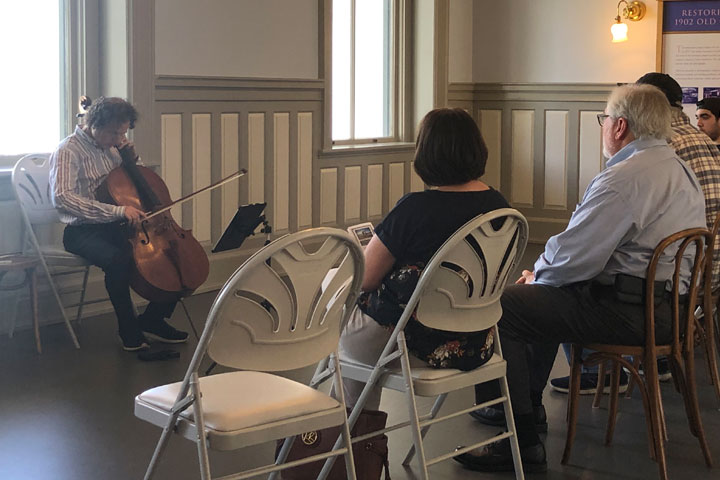 DakhaBrakha
All the way from the Ukraine, DakhaBrakha performed for more than 400 Lincoln High School students the morning after their dazzling performance in Rudy Diamond Concert Hall. This school performance was possible through the support of AT&T. Students were dancing in their seats and gave the group multiple standing ovations. DakhaBrakha provided an engaging performance that demonstrated their unique musical style, which includes Indian, Arabic, African, Russian and traditional instrumentation.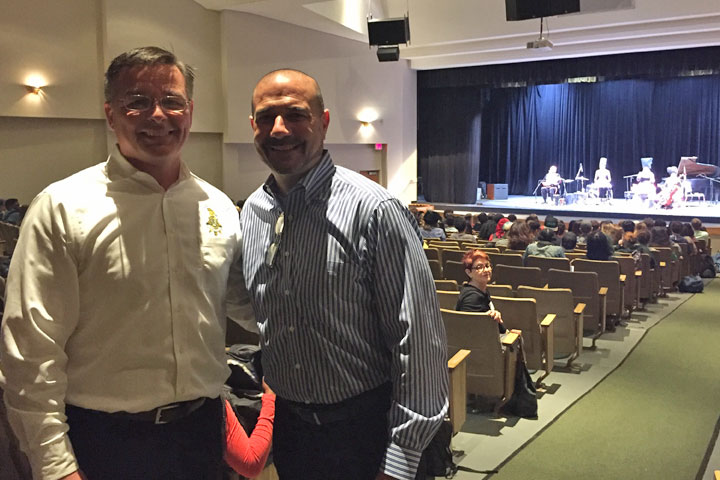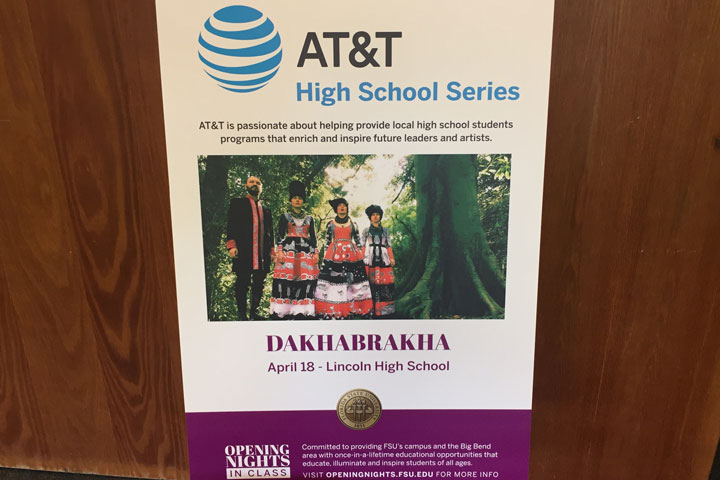 The Second City
Students from the FSU School of Theatre and the Jim Moran School of Entrepreneurship gained new skills in the art of improv from members of The Second City. The lessons taught during the workshop can be practiced in the day-to-day lives of business and theatre majors alike, making our students fearless for future auditions and "pitch" meetings.

FSU License Plate sponsored the Opening Nights Master Class series of programs this past season. When you purchase an FSU tag, you are helping provide students scholarships and educational programming. On average, Florida State specialty plate owners provide nearly $2 million each year for student scholarships.
More information & To Get Your Tag.
---
Membership
Through the generosity of sponsors and members, Opening Nights at Florida State University provides world-class cultural arts programs for our community and for students both on and off campus. Gifts from our donors enable Opening Nights to provide access to performances that many may not otherwise have the opportunity to see. Members also receive access to some amazing perks including advance ticket sales, parking passes, priority placement on waiting lists for sold-out shows and more. Support the arts in our community. Join Opening Nights!
---
Save the Date!
The 2019-20 Season will be announced on May 29! Sponsors and Members at the Friend level and above are invited to attend the announcement party. Be the first to know—become a member today. We hope to see you there! Membership and Sponsorship Info.